Nutritional Developmental Studies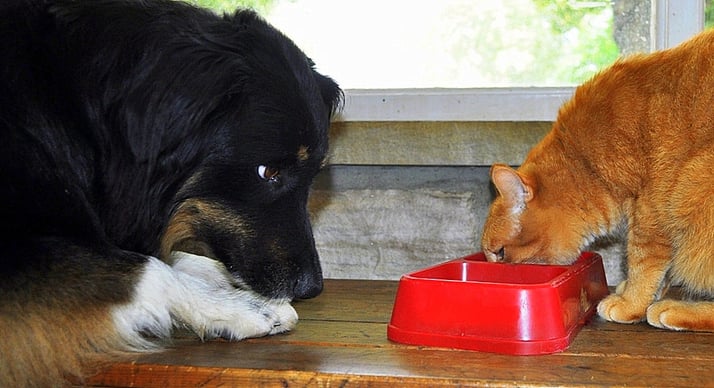 Companion and Farm Animal Food Standards
Nutritionists and food scientists must consider several factors when determining the various types and amounts of ingredients used in pet food. Producing pet food requires achieving the correct ingredients for the right "life-stage" of the pet. And Nutritional Pet Food researchers must follow Nutrient Profile protocols set by the Association of American Feed Control Officials (AAFCO).
MD Biosciences Veterinary Health Group
Our experienced pet nutrition researchers can assist you in your pet nutrition quest from ensuring proper protein levels are reached — most notably low-fat proteins, high-protein diets and alternative proteins, mRNA expression assays — to molecular nucleic acid testing. We're here to support scientists and other experts in animal health/nutrition seeking answers to specific questions.
Proteins
MD Biosciences offers testing to verify the origin of protein sources for food products. We conduct species identification as a quantitative measurement of the DNA present in a sampling of raw material that can assure the product is as requested and priced.
Microbial Nucleic Acid Testing
We offer Microbial nucleic acid testing, which can be useful for either identification of the gut microbiome population or the individual species level. In addition, these assays can be used to monitor gut bacterial populations in response to diet or inclusion of probiotics in food.
mRNA
We use mRNA expression assays to monitor changes in response to therapy or diet. We also use the regulation mRNA expression to assess disease onset, analyze immune function and track therapeutic efficacy. This technology can be applied to non-invasive specimen types such as blood and urine, allowing temporal measurement of the selected genes.
Additional Assay Targets
Depending upon your specific needs, we offer assays for infectious diseases and gene specific targets that can be implemented on a project basis. For example, the measurement of Lactobacillus in the gut and altered express of mRNA of cytokines and total protein of the cytokines.
As the industry maintains its quest to meet the health needs of an increasingly diverse pet food market that includes obesity and other health issues, we're here to help you test specialty formulas based on individual animal needs.
The above list is a small sampling of how our Veterinary Health Group can assist with your pet nutrition research efforts. Contact a scientist today to discuss a test that can meet your primary objectives.
---
Analysis is performed in purpose-designed, CLIA-certified GLP laboratories, using state-of-the-art equipment and methodologies by our highly experienced scientists. Our expertise can help improve the quality and benefits of food products for the well-being of companion and farm animals.