Bleomycin-induced Lung Injury/Pulmonary Fibrosis (IPF)
Bleomycin is a chemotherapeutic agent used to treat cancers such as Hodgkins lymphoma. One of the side effects is pulmonary toxicity, which can be life threatening in approximately 10% of patients.
The mechanism of bleomycin-induced lung injury includes oxidative damage via oxidant-mediated DNA breaks, causing inflammatory reactions in the lungs.
Bleomycin has also been used to induce lung injury in rodents for basic research into pulmonary fibrosis for over a decade. At MD Biosciences, we have refined the oral aspiration administration to allow for more even distribution of disease throughout both right and left lungs, making bleomycin-induced injury in mice a reliable model for research. This is a great model for studying idiopathic pulmonary fibrosis (IPF).

Available Bleomycin Study Readouts:
Immunophenotyping of bronchoalveolar lavage fluid (BALF):

Quantitation of T Cells, B Cells, Macrophage, Neutrophils, Eosinophils, Fibroblasts, etc

Cytokine Expression Levels (ELISA/Multiplex) in:

BALF
Lung Tissue Homogenate
Plasma/Serum

Histology of lung:

H&E for

morphologic analysis,

cellular infiltration, etc (Figure 1)
Masson's Trichrome staining for collagen (Figure 2)
IHC for specific markers of interest such as CD3, CD11b, etc (Figures 3 & 4)

Lung tissue biomarkers
Blood biomarkers (protein or nucleic acid)
Lung tissue cellularity
Figure 1. Late Stage Histology from Control & Bleomycin-treated Mouse Lung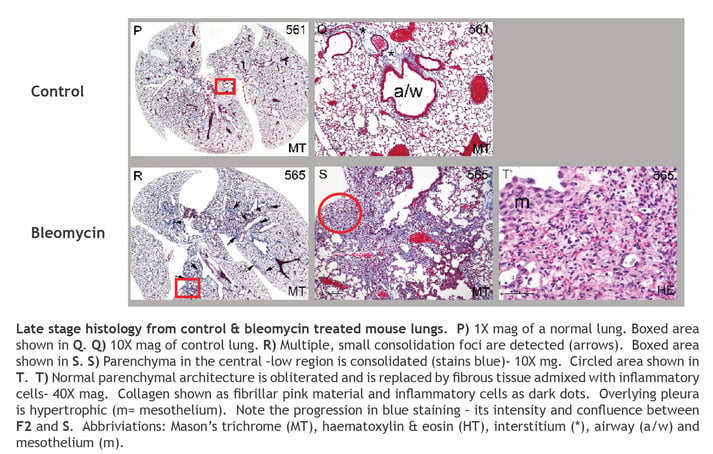 Figure 2. Lung Sections from Belomycin-Induced Fibrosis Model Stained For Macorphage (IHC Staining with CD11b Antibody):

A. Medium magnification of interstitial perivascular infiltrates showing staining for CD11b-positive cells (macrophage-specific marker). B. High magnification of interstitial perivascular infiltrates of CD11b-positive cells.
Figure 3. Lung Sections From Bleomycin-Induced Fibrosis Model Stained for Lymphocytes (IHC Staining with CD3 Antibody):

A. Rare CD3+ cells (arrows, non-specific staining in epithelium in upper left corner of image). Figure B. Subpleural infiltrate which includes CD3+ lymphocytes