Oakdale, Minnesota USA
Nominated via the Minnesota State Dept. Of Employment and Economic Development (DEED), the Progress MN award, offered by Finance & Commerce, recognizes innovative companies that have provided major contributions to business, industrial growth and economic development in innovative and unique ways.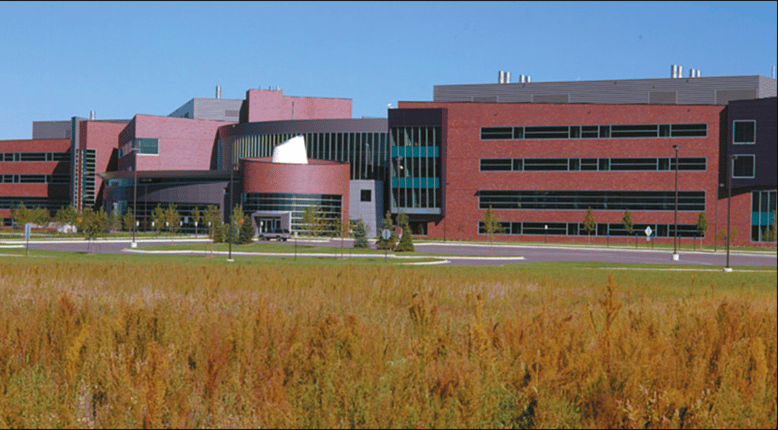 MD Biosciences US-site at the 4Front Technology & Office Campus in Oakdale, MN.
Taken from Finance and Commerce Website:
https://finance-commerce.com/2018/04/progress-mn-md-biosciences-inc/
Written By: Frank Jossi April 6, 2018
Eddie Moradian, CEO of the family-owned MD Biosciences Inc., moved to Minnesota in 2008 from Switzerland to take over the company's American operations.
Headquartered in Switzerland, MD Biosciences operates facilities and laboratories in that country, Israel and Minnesota.
The Minnesota location provides MD Biosciences with a central location and a highly dedicated and educated pool of researchers, health care centers and universities.
The company operates early-stage drug discovery and development laboratories in Minnesota. Labs at the two other locations often participate together in collaborative or fee-for-service pharmaceutical projects, Moradian said.
On a second front, MD Biosciences works closely with pharmaceutical and clinical laboratories in developing advanced clinical diagnostic tools and research products for inflammation, neuro-inflammation, immunological and oncological disease areas.
MD Biosciences has an in-depth expertise and scientific platform that attracts "novel" drug development work in the neurological, inflammatory and oncological disease areas, he said.
Such collaborations, along with internal developments, have resulted in a pipeline of non-opioid compounds for neuropathic pain, an advanced cancer program and blood-based diagnostic tool for a specific cancer, currently in clinical trials.
In 2016, Moradian partnered with Slumberland in the creation of an advanced, multi-technological incubator in Oakdale. "Incubology" offers dry and wet laboratory space, clean rooms and office space to companies in various areas, include biomolecule production, diagnostic processes, medical devices, nanotechnology and chemical synthesis.
"We believe that Incubology will soon grow to be an important regional anchor and seeding ground for new companies and technologies," he said, "We are truly excited about what the future may bring."
About MD Biosciences:
MD Biosciences is a leading provider of preclinical, translational and clinical-phase contract research services. Established in 1991, MDB provides expertise and services in areas including cancer, cardiovascular, metabolic, inflammatory and neurological conditions including pain-associated disease as well as surgical procedures. Through collaborations with pharmaceutical and medical device pioneers, MDB develops innovative therapeutics and diagnostic assays. Each scientist at MDB is highly specialized, and has an in-depth understanding of a variety of disease mechanisms and how to modulate them. This expertise, strengthened with over 10 years of pharmaceutical efficacy experience, brings value to drug development programs whether the focus is on new therapies or repositioning approved, expiring or failed therapies. Furthermore, MDB's clinical services operate at state of the art laboratories staffed with highly experienced scientists and technicians utilizing the newest and most advanced equipment available. All clinical work is performed according to CLIA standards, and may include assay development and validation, protocol design, sample archiving, and biomarker analysis services.
About Incubology:
Incubology was founded to bring technology start-ups together in a shared environment. Members have the benefit of dedicated lab and office space in close proximity to other entrepreneurs from diverse disciplines including biotech, pharma, device, nano and chem. With innovative thinkers from a variety of tech industries in one setting, the opportunity for shared business resources and services is a definite advantage over single-unit space. And as part of a growth-oriented campus, the possibilities for the future are endless.
About Finance and Commerce:
Finance and Commerce is the only daily newspaper devoted exclusively to business in the Twin Cities (Minneapolis–Saint Paul) of Minnesota. Founded in 1887, it provides extensive coverage of Twin Cities business news in the areas of real estate, construction, technology, banking, energy, health care and advertising. It is the official newspaper for Hennepin County and the City of Minneapolis.
For more information, please contact MD Biosciences at: info-us@mdbiosciences.com