Allergic asthma is a chronic inflammatory disease characterized by airway inflammation, changes in structural activity, and bronchial hyperactivity. Scientists have tried to mimic such features of human allergic asthma in murine models as the prevalence of asthma in westernized countries has nearly doubled over the last 20 years to an estimated 180,000 asthma-related deaths per year (WHO, 2018). To date there is no cure for asthma; treatment efforts including inhalers, diet intervention and steroidal injection are designed for symptom relief (Roland et al., 2018). Other initiatives include electronic health recording (EHR) allowing patients to co-manage disease in between office visits. Such interventions and therapies are temporary, aiming to minimize severity of symptoms and number of office visits but they do not always alter underlying pathological mechanisms. Thus, suitable efficacy models are needed. The Ovalbumin (OVA) and House Dust Mite (HDM)-induced models are widely-used models to explore underlying pathogenesis of asthma and MD Biosciences is proud to offer both models as resources for testing new therapeutics as well as provide additional ex vivo assessment services to better understand therapeutic method of action.
---
Click the buttons below to view our two validated asthma models.


---
Asthma is characterized by inflammatory stimuli causing immune cells such as eosinophils and lymphocytes to infiltrate the bronchial mucosa, increasing mucus secretion and the production of Th2 cytokines, including IL-4, IL-5 and IL-13. IL-4 induces CD4 T-cell differentiation to Th2 cells and induces B-cell proliferation. IL-5 activates eosinophil and facilitates B-cell growth along with antibody production (Johnson et al., 2004). IL-13 and IL-4 share similar responsibilities though IL-13 acts more so during secondary exposure to the allergen. In addition to inducing IgE production, IL-13 can also induce airway hyperresponsiveness (AHR), goblet cell metaplasia and airway glycoprotein hypersecretion, all of which contribute to airway obstruction (Nials, et al., 2008).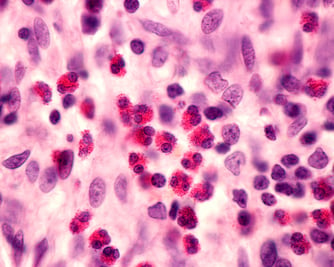 Fig 1: Eosinophil granulocytes in inflammatory infiltrate. This type of white blood cell is responsible for combating parasites, and have a role in mechanisms associated with allergy and asthma.
Asthma is a complex, multifactorial disease and animal models are extremely valuable in targeting mechanisms involved in the immunologic and inflammatory responses. Ovalbumin, a protein derived from chicken egg, is an allergen that induces a robust, allergic pulmonary inflammation in laboratory rodents. The OVA-induced asthma rodent model features similarities to human allergic asthma such as eosinophilic lung inflammation and release of inflammatory cytokines and mediators associated with Th2 inflammation. While OVA models have contributed significant value in revealing underlying mechanisms of asthma, its success has been somewhat limited as OVA is not implicated in human allergic asthma. Nearly 85% of individuals suffering from allergic asthma demonstrate increased HDM-specific serum IgE levels, highlighting the significance of the HDM murine model. HDM-induced asthma recapitulates many features of human allergic asthma including Th2-associated cytokine response, eosinophilic infiltration into the lungs, AHR and epithelial tissue remodeling. Inhalation delivery of HDM has shown more success, possibly due to the intrinsic enzymatic activity of this allergen.
At MD Biosciences, our in vivo studies such as HDM and OVA are supported by ex vivo assessments including multi-colored flow cytometry, nanoscale cytokine analysis, histology and IHC (Roche Ventana and Leica Versa) and much more. With our unique combination of capabilities, we are well situated to evaluate the immune response pathways and pathological events characteristic of disease.
Contact us below to learn more about our asthma models and accompanying biomarker and histology services!