Management of acute pain related to surgical intervention, termed postoperative pain, continues to be a major problem facing physicians and patients today. The most common method for addressing post-operative pain is through pharmacotherapy. [1,2] Table 1 lists a selection of the most common analgesics used to treat acute surgical pain, their methods of delivery, and the mechanism by which they are thought to act. [1] Significant progress in the pain management field has been made in recent years mostly in the areas of new delivery methods and multimodal analgesia. Novel drug delivery systems for postoperative pain medications include, for example, patient-controlled analgesia, means of sustained or extended release, transdermal delivery using iontophoresis, and transmucosal and intranasal delivery systems. While a few of these methods may not yet be approved in all geographies, the majority now serve as new tools available to physicians to treat their surgical patients. [1,2] Multimodal analgesia is based on the idea that simultaneous administration of more than one pain therapy strategy offers opportunities for results that are either additive or synergistic. Although clinical data on these types of strategies are still somewhat inconsistent, some clinical trial data do demonstrate improved outcomes and reduced incidence of persistent post-operative pain. [1]
Commonly used pharmacotherapies for treating post-operative/surgical pain
Drug Type
Delivery Method
Probable Mechanism
Local anesthetics (bupivicaine, lidocaine)

EA/SA, PNB/C, SC, TR

Inhibition of sodium channel
Opioids (fentanyl, morphine)
EA/SA, IV, SC, TR
u-receptor agonist
Paracetamol
PO, IV
Uncertain
Non-steroidal anti-inflammatories (NSAIDs)
(celecoxib, ibuprofen, keterolac)
PO, IV
Inhibition of cyclooxygenase
Gabapentinoids (gabapentin, pregabalin)
PO
Inhibition of voltage-gated sodium channels
alpha2-agonists (clonidine, dexmedetomidine)
PO, IV
alpha2-receptor agonist
Abbreviations: EA/SA = epideral/spinal, PNB/C = peripheral nerve block/catheter, SC = subcutaneous, TR = transdermal, IV = intravenous, PO = oral
Unfortunately, despite the critical nature of effective pain management after surgery and all of the tools available to physicians to address this issue, it is generally accepted that postoperative pain is undertreated. [1,2] Some estimates put adult patients receiving adequate postoperative pain relief at only 1 in 4 and children at roughly 1 in 5, numbers that clearly demonstrate the inadequacy of current strategies for postoperative pain management and the critical need for meaningful pain research that can be translated to the clinical setting. [1]
Relevant preclinical pain models for assessing post surgical pain are important. Modeling human pain in the animal setting and translating that to the clinic has certainly been a challenge. Recent innovative advances in preclinical models of post-operative pain are facilitating our understanding of its underlying mechanisms, furthering our efforts toward safe and effective therapeutic strategies of post-operative pain management.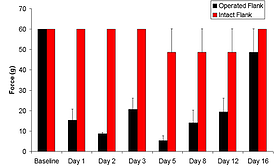 MD Biosciences has developed a post-operative pain model that enables the evaluation of local treatments for post-operative or surgical pain. Pain lasts up to 14 days and evaluation of wound healing, pain assessments and inflammation can be assessed simultaneously. Ideal for analgesics that are injectables, implants, devices, patches and creams.
To learn more, download the whitepaper:

Wu, C.L. and Raja, S.N. (2011) Treatment of acute post-operative pain. The Lancet 377(9784):2215-2225.
Mao, J (2009) Translational pain research: achievements and challenges. Journal of Pain 10(10):1001-1011.