Rheumatoid arthritis is a chronic and progressive inflammatory condition estimated to affect between 0.5-1% of the world's population, with more women being affected than men. It is a systemic disease manifesting mainly as a disabiling destruction of the synovial joints of the hands and feet.
Joint destruction is induced by dysregulated immune activation of both the innate and adaptive immune responses resulting in alterations in the synovium, cartilage and bone. The normal joint has a thin synovial lining (intimal lining layer), 1-3 cells thick. Beneath this is a sub-lining layer of connective tissue scattered with immune cells, blood vessels and nerve cells. Together these layers form the synovium, which produces the synovial fluid that serves to lubricate the joint. Disease initiation results in profound changes in the structure and composition of the synovium and synovial fluid; with the infiltration of inflammatory cells, synovial cell hyperplasia, increased angiogenesis, fibroblast proliferation and extracellular matrix production. This increase in synovial cell proliferation can result in the lining increasing up to five times its original size and can result in pannus formation. The culmination of these events is bone and cartilage erosion and loss of joint function.
Research spanning five decades as failed to completely elucidate the aetiology of RA. It is clear however that the disease is complex, heterogeneous and can probably be initiated by several mechanisms. The strongest is with HLA II, although both genetic and environmental factors have been implicated in the disease.
Many preclinical models of rheumatoid arthritis are used to study the mechanisms of the disease and to screen potentially therapeutic targets.


While these models have greatly advanced our understanding and treatment of inflammatory conditions such as RA, pharma companies continue to face enormous challenges bringing new drugs to market. It is estimated to cost $0.8-$1.7 billion dollars for a new drug to reach the market, however 4 out of 5 drugs that enter clinical trials fail to proceed to approval stages, representing a substantial financial loss to the company. Advances in imaging technology has however, has allowed these models to provide significantly better information about disease and potential disease modifying therapies (DMARD). This can be used to help decide which drugs should advance to clinical stages by providing accurate information about drug localization, mechanisms of action, receptor occupancy, effect on specific molecules, process and pathways and efficacy of dose and regime.
Using inflammation specific probes in the collagen-induced arthritis (CIA) pre-clinical model, researchers can:
perform repeated measures of arthritis associated inflammation markers temporally in the same animal without the need to add extra animals


Multiple joints can be observed including the knee which can be difficult to visualize using standard arthritis clinical scoring protocols


Highlight disease processes earlier in the course of arthritis development


Make decisions during the course of the study based on biomarker imaging that may not be detected by clinical scoring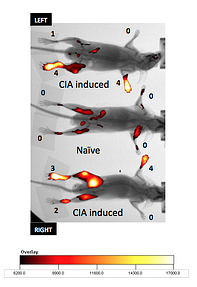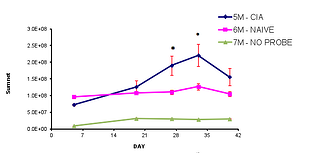 Figure: Cathepsin B, L, S, K and plasmin detected with Bioimaging Inflammation probes