Acute kidney injury is a disease that is characterized by a rapid loss of kidney function, including the rapid fall in glomerular filtration rate (GFR) and the retention of nitrogenous waste over the course of hours and days. AKI is a complex, multifactorial disease with inflammatory, ischemic, necrotic and apoptotic events that occur simultaneously, leading to damage and functional kidney failure. The process of kidney injury occurs in stages starting with increased risk, followed by damage as a result of ischemic injury or toxicity, followed by a decrease in glomerular filtration rate (GFR), which further progresses to kidney failure.
The most common causes of acute kidney injury are sepsis and ischemic insult resulting from a variety of conditions such as decreased cardiac output, renal occlusion or obstruction and kidney transplant. Additionally, drug induced nephrotoxicity is also a common cause, with up to 90% of developed drugs failing due to adverse affects.
Biomarkers in Acute Kidney Injury
Acute kidney injury plays a causal role in the development and progression of chronic kidney disease, which is a major burden to both patients and healthcare providers. AKI is potentially reversible if identified in the early stages of damage, yet the mortality rate in patients remains high, up to 70%.
In the clinic, traditional biomarkers of blood urea nitrogen (BUN), serum creatine and albumin are often used as indicators of kidney damage, however these markers aren't detectable until hours or days after the injury – making them more indicative of later stage kidney damage. Serum creatinine for example measures GFR, however it takes several hours or days to reach its steady state and may not rise until half of the kidney function is lost.
Focus is currently on using novel biomarkers, which would identify early stages of injury when the reversal of renal injury is greatest. The characteristics of ideal biomarkers would be the ability to identify the mechanism of injury as well as the site and severity of injury. Currently there are two promising biomarkers that identify early kidney injury: KIM-1 and NGAL.
Kidney injury molecule 1 (KIM-1)
KIM-1 is a transmembrane tubular protein produced with kidney damage. It is undetectable in normal kidneys but is highly upregulated following ischemic injuries.
Neutrophil gelatinase-associated lipocalin (NGAL)
NGAL is a ubiquitous iron-carrying protein expressed in the tubular epithelium of the distal nephron and is released following damage into blood and urine. It typically rises within 2-4 hours following kidney injury, which presents an enormous advantage over serum creatinine, which doesn't present in the clinic until 1-3 days after injury.
In addition to early or late stage, biomarkers that are able to predict the site and cause of injury are also of interest: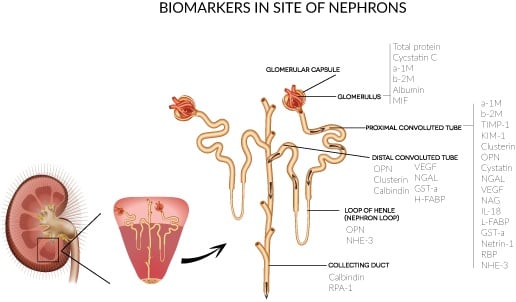 Preclinical Models of Acute Kidney Injury (AKI):
Unilateral Kidney Injury
BIlateral Kideny Injury
Sepsis-induced kidney injury
Kidney Toxicity Biomarker Panels:
Human Kidney Toxicity
Mouse Kidney Toxicity
Rat Kidney Toxicity
Canine Kidney Toxicity