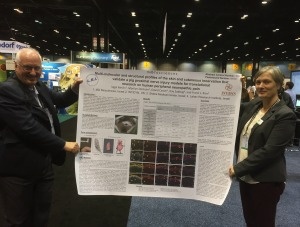 Last week, MD Biosciences presented a poster at the Society for Neurosciences 2015 Conference in Chicago. As strong advocates for the use of pig in translational neuropathic pain research, we introduced a new pig proximal peripheral neuritis trauma (PNT) model that shares many similarities in morphological and molecular pathologies with skin biopsies from human pain conditions. This is particularly true in comparisons with patients suffering from persistent area pain conditions such as postherpetic neuralgia (PHN) and complex regional pain syndrome (CRPS) as well as other chronic pain conditions.
Pig P

eripheral Neuritis Trauma (PNT)

Model
While rodent models have undeniably contributed to our understanding of neuropathic pain pathophysiology over the years, translation of the preclinical pharmacology results of these models to the clinic remains limited. Our research into the molecular mechanisms involved in neuopathic pain validates the pig PNT model as a platform for translational research for human chronic pain mechanisms and for potential therapeutic development.
As shown in our poster, multi-molecular immunofluorescence assessments of pig PNT skin biopsy samples demonstrate similarities in the innervation and neural signaling properties between the pathological profile of the pig model to that seen in PHN and CRPS patients. These similarities included:
Reduced yet hyperexcitable innervation in the upper dermis and epidermis
Increased expression of proteins previously implicated in algesic mechanisms in keratin producing epidermal cells (or keratinocytes)
Reduced expression of keratinocyte proteins implicated in analgesic mechanisms
These differences in seen the pig PNT keratinocyte neurosignaling properties may, in turn, contribute to the hyperactivation of remaining innervation.
See more information on the pig PNT model below!
SfN 2015 Highlights
As expected, there were many outstanding talks and posters given at the Society for Neuroscience 2015 Conference, highlights included a presentation by Beth Stevens called "Immune Mechanisms of Synapse Loss in Health and Disease" and by NIH director Dr Francis Collins on"Embracing an Era of Unprecedented Advances in Neuroscience". Dr. Stevens elegantly outlined research that identified microglia as pivotal in the synaptic pruning that occurs during development of the brain and the potential targeting of microglia to treat neurodegenerative diseases in the future. Dr Collins gave a nice overview of how research initiatives such as the Human Connectome Project and Brain Research through Advancing Innovative Neurotechnologies (BRAIN) Initiative have impacted recent CNS advances.
Other big themes for the SfN 2015 conference included connections between neurological disease development and therapy with factors such stress, gender, growth, environmental events (such as pollution), etc. In previous years, posters discussing such topics were few and not given particular notice while this year, they had a significant and well-deserved presence.
Follow this link to check out our paper publication on similarities in pain assessments between the pig PNT and human peripheral neuropathic pain.