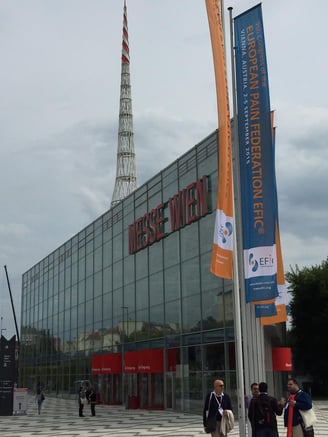 The 9th Annual Congress of the European Pain Federation EFIC® was anything but painful as it concluded last week in Vienna with three days of riveting talks. The speakers consisted of expert pain practitioners, scientists, and policy makers who came together with the goal of "translating evidence into practice".
The Scientific Program Committee, chaired by Chris Eccleston, did a great job of accomplishing just that. The conference was kicked off with Special Plenary lecturers Dr Andrew Moore of University of Oxford, Ralf Baron of Kiel University and Michaela Kress of Medical University Innsbruck who all gave great talks on "What makes evidence useful for everyday use?", "Personalized treatment in neuropathic pain: vision becomes reality" and "Non-coding RNAs: novel perspectives for clinical applications".
Over all themes from both lectures and breakout discussions include the interrelationship between stress, trauma and pain. Simply put, stress or trauma affect pain and pain affects stress or trauma. Understanding the cross talk between these pathological events and being able to monitor them appropriately will help in understanding pain etiology and treatment.
Researchers are very interested to learn more about higher brain functions and its effects on pain. As in the case for PTSD, chronic pain can lead to fixed changes in the brain. Therefore, we have to treat pain prior to these changes. Once the structural changes are fixed, it is almost impossible to solve the pain using drugs.
One promising approach that would add to our understanding of pain conditions both in animals and humans is through the development of imaging methods, thus allowing usto monitor involvement of the CNS in chronic pain. Additionally, imaging techniques would promote a better understanding about the interaction between blood vessels, skin layers and the nervous system of the skin in peripheral neuropathy and may shed a light on new and better therapies for chronic pain conditions. Biomarker tools, however, are still missing for the identification of peripheral neuropathy.
At MD Biosciences, we strive to combine not just the standard assessment tools such as von Frey, heat sensitivity, etc., but also imaging and biomarker analysis. Contact us today to see how we can assist you with your research needs!