MD Biosciences providing up-to-date news coverage compiling posts from science journals including Cell Death and Disease, Cell Press, Journal of Craniofacial Surgery, Nature Medicine, ScienceDaily, Science Translational Medicine and Sci News reporting fascinating and innovative discoveries happening all over the world across a wide variety of disciplinary areas. Skim the titles below to catch up on what is happening and to learn what the team at MD Biosciences is reading about. Follow the links to read more about something that catches your eye!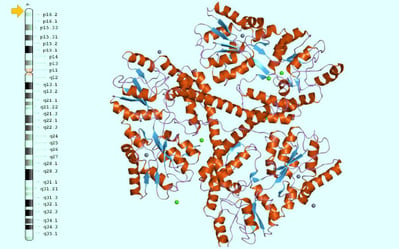 The location of the huntingtin gene on chromosome 4 and 3D structure of huntingtin. Image credit: Genetics Home Reference / NCBI / EBI.
WEEKLY SCIENCE HIGHLIGHTS
Spinal Implant Helps Paralyzed Man Walk Again
At Mayo Clinic, Dr. Kendall Lee and colleagues implanted an electrode in the epidural space. Spinal cord stimulation, partnered with physical therapy, demonstrated regaining of the ability to walk with minimal assistance. Reported by Sci News and published in Nature Medicine.
Humans and Neanderthals: Viruses Leading The Way in Genome Discovery
Findings from next-generation genome sequencing are showing human evolution isn't as linear as once thought. A study out of Cell Press, reported by ScienceDaily, discusses contributions from viruses in shaping evolution.
---

---
Researchers Identify a New Technique to Repair Cleft Palate in Infants
Researchers at Hospital De San Jose are using umbilical cord blood stem cells for this procedure. It is producing promising results in growing new bone in order to close the upper jaw cleft. Reported by ScienceDaily and published in Journal of Craniofacial Surgery.
Discovery of KCNB1's oxidation/build-up: possible cause of Alzheimer's
A recent study out of Rutgers Medical School explored a new mechanism involving a non-amyloid-beta protein known as KCNBI. Under stressful conditions, this potassium channel ignites the production of amyloid-beta and becomes toxic to other neurons. Published in Cell Death & Disease.
---

---
Gene Therapy Advancements to Treat Huntington's Disease (HD)
Instead of focusing on motor performance like many other HD studies, researchers from the University of Central Florida wanted to assess mood, cognitive function and memory. This treatment used antisense oligonucleotides to decrease production of the Huntingtin protein. Reported by Sci News and published in Science Translational Medicine.
---

---
Hope you learned something new! Check back next Tuesday for informed, up-to-date science news, or

contact us

with specific inquiries.