MD Biosciences providing up-to-date news coverage compiling posts from science journals including Nature Neuroscience, News: Medical and Life Sciences, Nature, Science Translational Medicine and Sci News reporting fascinating and innovative discoveries happening all over the world across a wide variety of disciplinary areas. Skim the titles below to catch up on what is happening and to learn what the team at MD Biosciences is reading about. Follow the links to read more about something that catches your eye!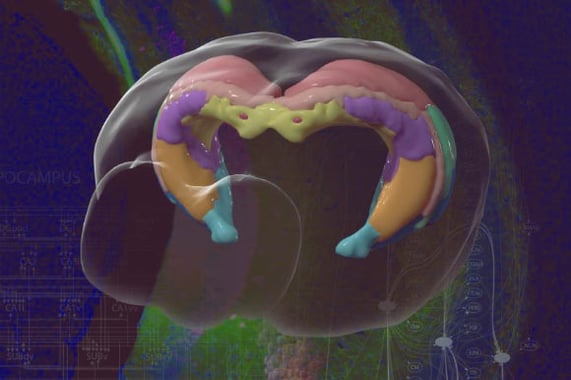 Brain mapping of the hippocampus. Image credit: Jim Stanis and Tyler Ard, USC Mark and Mary Stevens Neuroimaging and Informatics Institute.
WEEKLY SCIENCE HIGHLIGHTS
Gut Microbiota and its Role in Multiple Sclerosis Pathogenesis
A recent study published in Science Translational Medicine describes a therapeutic approach fashioned for effective MS treatment without weakening the immune system, among other serious side effects, that often are the result of current treatments.
Detailed Brain Mapping of the Hippocampus
Neuroscientists at the University of Southern California have created an "atlas" of the hippocampus to better understand its physical structure and physiological functioning in relation to neurodegenerative diseases like Alzheimer's or Parkinson's, diseases associated with cognitive and memory impairment. Published in Nature Neuroscience and reported by Sci News.
---

---
Japan Prepares Proposal to Allow Gene-editing in Embryos
For years, Japanese officials have maintained a neutral stance on the ethics behind gene-editing. Until now. Bioethicist, Tetsuya Ishii, at Hoikkado University in Sapporo, discusses the developments of the decision to pursue gene-editing and the implications it could pose for future embryonic research. Published in Nature.
Early Biomarker Indicators of Sepsis
A Technology Strategy Board-supported study examined white blood cell biomarkers in patients who develop sepsis in efforts to establish potential "early warning markers" for this serious infectious condition. Reported by News: Medical and Life Sciences.
---

---
Inducing Regeneration of Infarcted Heart Tissue
Researchers from University of Kelsinki analyzed transcripts, metabolites and proteins in mice of varying ages to assess what contributes to heart tissue preservation and loss. The main goal of the lab is to help identify drugs that would be useful for reducing damage caused by heart attacks. Reported by News: Medical and Life Sciences.

---
Hope you learned something new! Check back next Tuesday for informed, up-to-date science news, or

contact us

with specific inquiries.