MD Biosciences providing up-to-date news coverage compiling posts from science journals including News Medical, Journal of Knee Surgery, Nature Communications, ScienceDaily and WVU News reporting fascinating and innovative discoveries happening all over the world across a wide variety of disciplinary areas. Skim the titles below to catch up on what is happening and to learn what the team at MD Biosciences is reading about. Follow the links to read more about something that catches your eye!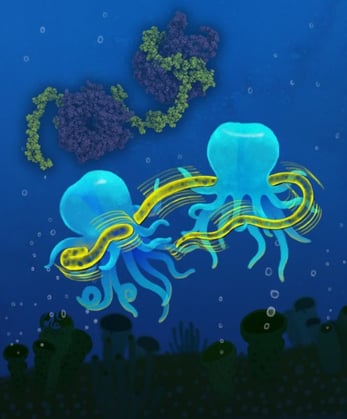 Exploring the Mitochondria (article 3): This image shows a graphical depiction how mitochondrial TIM transfer-chaperones use multiple clamp-like binding sites to the transport protein substrates in elongated, nascent chain-like conformation through the mitochondrial inter-membrane space. The image depicts this principle by showing two "dodecapuses' holding a sea snake with multiple of their tentacles. Image source: Yong Wang and Wei Chen.
WEEKLY SCIENCE HIGHLIGHTS
Ultrasound and MRI Imaging: Monumental Treatment for Alzheimer's
Neurobiologists and other researchers from West Virginia University Rockefeller Neuroscience Institute are using ultrasound waves and MRI targeting technology to treat early onset Alzheimer's. The procedures involves 1,000 probes targeting specific regions in the brain in conjunction with microscopic bubbles to penetrate the blood-brain barrier. Reported by WVU News.
An Identified Molecule for Muscular Myotubular Myopathy
Myotubular myopathy is a genetic disease that causes progressive muscle and skeletal weakness and ultimately results in total muscle paralysis. Sadly there is no current treatment but researchers at University of Geneva (UNIGE) in Switzerland are collaborating with experts in France to identify a molecule responsible for reducing the progression of this disease and increase life expectancy in animal models. Tamoxifen, the molecule they've identified, is already utilized for breast cancer, which gives the researchers hope that approval for clinical trial can be organized soon. Reported by ScienceDaily and published in Nature Communications.
---

---
Exploring Unanswered Questions about the Mitochondria
Scientists at University of Freiburg are collaborating with the European Research Council (ERC) to describe how water-soluble membrane proteins are transported through the aqueous space in between the mitochondrial membranes with the help of chaperone proteins. This research provides detailed, novel insight into the formation of mitochondria. Published in Cell and reported by ScienceDaily. View the above image for a mitochondria depiction.
Cooled Radio Frequency for Treating Knee Osteoarthritis
Osteoarthritis is a pain-associated condition affecting millions of people in the world, and the current treatment protocol ranges from conservative methods to surgical procedures. Surgery is a limited option, depending on the eligibility of patient candidates. A new alternative published in Journal of Knee Surgery is cooled radio frequency ablation (C-RFA), which offers a more aggressive type of treatment than conservative methods but also is a beneficial option for patients who do not want or do not qualify for surgical intervention.
---

---
FDA Authorizes Devices for Parathyroid Surgeries
The FDA authorized two devices that offer real-time location of parathyroid tissue during surgical procedures including thyroidectomy and parathryoidectomy. These devices offer surgeons valuable information to try and preserve healthy tissue and remove necrotic tissue during surgery to optimize recovery. Reported by News Medical.
---

---
Hope you learned something new! Check back next Tuesday for informed, up-to-date science news, or

contact us

with specific inquiries.