MD Biosciences providing up-to-date news coverage compiling posts from science journals including Cell Stem Cell, Gen News, News Scientist, Nature Communications & Business Insider reporting fascinating and innovative discoveries happening all over the world across a wide variety of disciplinary areas. Skim the titles below to catch up on what is happening and to learn what the team at MD Biosciences is reading about. Follow the links to read more about something that catches your eye!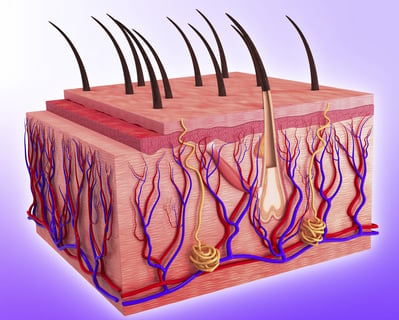 Computerized image of human skin by Gen News.
WEEKLY SCIENCE HIGHLIGHTS
Hair Restoration in Skin Wounds
NYU School of Medicine scientists have identified molecular signaling pathways to prevent hair growth on wounded skin in hopes of discovering better drugs to restore hair growth. The team activated the sonic hedgehog (Shh) pathway used as a communication pathway for cells, a pathway known to be highly active during early stages of human growth in the womb when hair follicles are usually developed. It is hindered in wounded skin in healthy adults, however. These results suggest an explanation as to why hair follicles fail to grow in skin replaced after surgery or injury.
Newly Discovered Blood-Forming Stem Cells in Intestine
Previously it has been accepted that blood cells are created solely in the bone marrow from a specific group of hematopoietic stem cells but now, researchers at Colombia University Vagelos College of Physicians report that the human intestine provides 10% of blood cells in circulation from their own supply of blood-forming stem cells. This discovery could potentially improve successful outcomes of intestinal transplants in humans. Reported by Gen News and published in Cell Stem Cell.
---

---
Targeting Cancers Based on DNA
The FDA has approved a new cancer treatment drug, Vitrakvi, developed by Loxo Oncology. This approval is so significant because this specific company works to create drugs that target cancerous genetic mutation as opposed to type of cancer. Vitrakvi has been tested in patients with breast, thyroid and lung cancer, to name a few. Reported by Business Insider.
---

---
Restoring Limb Function in Spinal Cord Injury Patients
Neuroscientists at Case Western Reserve University, for the time time ever, have permanently restored limb functioning and breathing capabilities in rats with chronic spinal cord injury (SCI) by a single injection of ChABC. The hope is that, using this enzyme, motor function in SCI in humans can also be restored. Reported by Gen News and published in Nature Communications.
Turning Down The Subthalamic Nucleus
A study out of the Feinstein Institute for Medical Research in New York, reported by News Scientist, found that improving motor control for people with Parkinson's disease was made possible by a new gene therapy targeting subthalamic activity.
.
---

---
Hope you learned something new! Check back next Tuesday for informed, up-to-date science news, or

contact us

with specific inquiries.