Happy New Year from the team at MD Biosciences! This week's blog is providing up-to-date news coverage compiling posts from science journals including Advanced Materials, Cell Reports, Clinical OMICS, Gen News, Neuroscience News, and Science Advances reporting fascinating and innovative discoveries happening all over the world across a wide variety of disciplinary areas. Skim the titles below to catch up on what is happening and to learn some of the top predicted biotechnology trends for 2019! Follow the links to read more about something that catches your eye!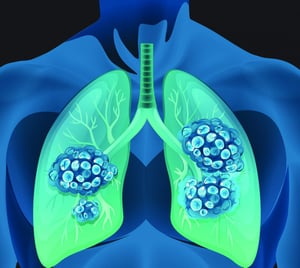 Image Credit: mRNA inhalation, from Gen News.
WEEKLY SCIENCE HIGHLIGHTS
mRNA Inhalation: Therapy for Lung Disorders and Diseases
mRNA has been seen as a potential therapy for many diseases but a major obstacle has been finding a safe and timely way to deliver mRNA molecules to targeted cells. Researchers at MIT have developed a form of mRNA that is transferred through inhalation. The goal was to create a material that could stabilize RNA during aerosol delivery, which would be directly administered into the lungs helping treat lung diseases such as cystic fibrosis. Past studies explored a material called polyethylenimine (PEI) for delivering inhalable DNA to lungs but it does not break down easily, causing a laundry list of side effects and potential complications. To bypass these potential dangers, the team turned to positively charged polymers, hyper-branched poly (beta-amino esters), which are biodegradable. Published in Advanced Materials and reported by Gen News.
Top 5 Biopharma Trends to Watch in 2019
In an ever-changing economy and technology driven society, pharmaceutical and biotechnology companies are constantly innovating and advancing their research and development programs to stay at the forefront of science. 2018 saw advancements in artificial intelligence, gene editing technology, microbiome research, interest in drug discovery, and more. Below are a few predicted trends researchers and scholars have compiled for 2019: Cancer immunotherapy, digital therapeutics, cell and gene therapies, mergers & acquisitions (M & A's) and biopharma investment. Reported by Gen News.
---

---
Hyperactive Immune System and Aging Brain Disorders
NIH researchers led a study of fruit flies suggesting that the the body's immune system plays a crucial role in the damage caused by aging brain disorders. They altered Cdk5 activity, a gene known to be important for early brain development and is involved in neurodegenerative diseases including Alzheimer's Parkinson's and ALS. Reported by Cell Reports and published in Neuroscience News.
Novel Clinical Applications for Parkinson's Disease
Scientists at Duke University Medical Center have successfully modified the expression regulation of the gene that encodes α-synuclein, SNCA, using an epigenetic system to reverse over-expression. The study was inspired by accumulating evidence that elevated levels of SNCA are highly correlated to Parkinson's Disease (PD) pathogenesis. This work provides valuable insight into therapeutic options for PD and other neurodegenerative disorders. Published and reported in Clinical OMICS.
---

---
Motor Function Decline and Longevity Influenced by a Single Protein
A study published in Science Advances led by University of Michigan researchers sought to identify a molecular target to genetically or pharmacologically increase lifespan and slow down motor aging. Researchers explored how targeting the slo-1 (slowpoke potassium channel family member 1) gene or its protein, SLO-1, inhibited motor function decline and extended lifespan in older C. elegans worms by acting at neuromuscular junctions (NMJs) in motor neurons. Interestingly, the differential acts of targeting SLO-1 in older worms and younger worms is indicative that SLO-1 and NMJs play more complex and dynamic roles in motor aging than originally thought. Further investigation is needed to sort out the underlying mechanisms of SLO-1 and its differential roles.
---

---
Hope you learned something new! Check back next Tuesday for informed, up-to-date science news, or

contact us

with specific inquiries.