It's Tuesday and we're back with covering the latest fascinating and innovative discoveries happening all over the world across a wide variety of disciplinary area. This week's blog is providing up-to-date news coverage compiling posts from science journals including Advanced Materials, Cell, EurekAlert, ScienceDaily, Proceedings of the National Academy of Sciences, News Medical and Nature Biomedical Engineering. Skim the titles below to catch up on what is happening and follow the links to read more about something that catches your eye!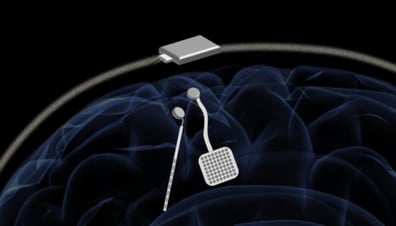 In a wireless "pacemaker" for the brain, two of the new chips would be placed in a chassis located outside of the head. Each chip monitors electrical patterns/activity from 64 electrodes located into the brain while also delivering electrical stimulation to inhibit seizures or tremors. Image credit: Rikky Muller, UC Berkeley
WEEKLY SCIENCE HIGHLIGHTS
Meet WAND, a Pacemaker for the Brain
Scientists at University of California-Berkeley have created a wireless artifact-free neuromodulation device that is wireless and automatically engineered, named WAND. When a person has a seizure, the device learns to recognize the tremor or seizure patterns he/she exhibits and it adjusts the stimulation parameters to inhibit dangerous movements following those initial patterns. WAND could be an extremely valuable tool to prevent life-threatening tremors and seizures among other neurological issues but it will take years to determine optimal strength and frequent detection for the device to offer patients with optimal and safe treatment. Reported by ScienceDaily and published in Nature Biomedical Engineering. See above image to understand the placement of WAND.
Natural Healing Methods Discovered for Wound Injury Cases
A team at Imperial College London has discovered a new molecule that has the power to change the way traditional biomaterials work in the human body for wound repair and skin growth. The molecule is known as traction force-activated payloads (TrAPs). TrAPS can recreate the natural healing method by essentially "folding" the DNA segments into 3D shapes known as aptamers, clinging onto proteins. This methodology offers a novel, flexible method to develop biomaterials that mimic the natural wound healing process and communicate with the wound cells effectively. Reported by ScienceDaily and published in Advanced Materials.
---

---
Identified Immunotherapy Target for Pancreatic Cancer
A potential immunotherapy target has been identified in pancreatic cancer, which has been one of the most resistant types of cancer to treatments with immune blockade drugs. At University of Texas MD Anderson Cancer Center, researchers discovered that over-expression of the immune checkpoint VISTA, is found in macrophages that are widespread in pancreatic tumors. Clinical teams are now working to find potential antibodies to inhibit VISTA, in addition to exploring if other immune checkpoints are potential targets. Reported by News Medical and published in Proceedings of the National Academy of Sciences.
Human Intestinal Cells Offer Novel Insight Into Treating Multiple Sclerosis (MS)
Reducing brain inflammation in patients with MS was the goal for researchers at University of Toronto and UC-San Fransisco. They explored plasma cells, white blood cells starting as B cells in bone marrow, that alter their behavior when influenced by microbes in the intestine. The team found that plasma cells housed in the gut, produce Immunoglobulin A (IgA) antibodies that migrate to the central nervous system -- effectively producing an anti-inflammatory response to treat MS symptom flare ups. Identifying that IgA-producing B cells directly travel from the brain to the guy, and comprise for over 80% of all human antibodies, shows great value for developing effective treatments to prevent, or stop, MS and other neurological disturbances. Reported by UC-San Fransisco and published in Cell.
---

---
Single Cell Sequencing and Idiopathic Pulmonary Fibrosis (IPF)
Providing a deeper understanding of IPF, scientists at UC-San Fransisco identified a new type of immune cell that infiltrates tissues in the lungs and starts fibrosis to develop. The team was able to prevent the development of fibrosis in mice by targeting such cells, a novel discovery revealing promising options for preventing this terminal illness. Click the link to find out what type of cells they targeted! Reported by EurekAlert and published in Nature Immunology.
---

---
Hope you learned something new! Check back next Tuesday for informed, up-to-date science news, or

contact us

with specific inquiries.