It's Tuesday, which means MD Biosciences is providing coverage of the latest fascinating and innovative discoveries happening all over the world across a wide variety of disciplinary areas. This week's blog is compiling posts from science journals including Nature Medicine, Nature Genetics, Medical Xpress, PM360, ScienceDaily and Science. Skim the titles below to catch up on what is happening and follow the links to read more about something that catches your eye!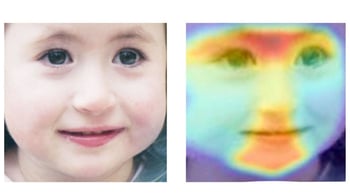 Individuals with Bain type intellectual disability, caused by a mutated gene on the X chromosome, often have almond-shaped eyes and a small chin. The AI technology detected these features (right) on a child and associated it with a photo in its database with tags for Bain type disorder (left). Image credit: Science.
WEEKLY SCIENCE HIGHLIGHTS
DeepGestalt, an AI platform for Rare Genetic Disorders

A study published in Nature Medicine reports on an artificial intelligence computer program built to recognize facial features of various genetic disorders. Scientists built this computer program to store more than 17,000 photos of patients with over 200 rare disorders, and it uses deep learning to identify patterns of markers that were linked to different genetic syndromes. Used in combination with genome testing to identify certain genetic markers, this revolutionary tool can offer a quicker and more accurate diagnosis for rare disorders. Reported by Science. See above image for an example.
Rapid Degeneration of Spinal Cord Post-Injury
A professor at Florida State University College of Medicine is seeking to understand why such significant harm can occur in the weeks and months following a spinal cord injury. In a study published in Nature Neuroscience, Dr. Ren and colleagues explained that when spinal cord damage happens, endothelial cells are activated to remove harmful material, such as myelin debris from the injury site. Ren discovered that post-traumatic degeneration of the spinal cord could be caused by, or at least harmed by, the efforts of the endothelial cells. Reported by Medical Xpress.
---

---
Largest Genetic Study of Osteoarthritis
A study published in Nature Genetics discusses the analysis of genomes of 77,000 people with osteoarthritis. Scientists have discovered 52 new genetic changes linked to the disease and new biological pathways to help identify new medicines and therapeutic areas to target for treatment. To delve into which genes were contributing to developing osteoarthritis, scientists from the Wellcome Sanger Institute in Germany analyzed gene activity by measuring gene expression, including protein level. By combining different data platforms and analyses tools, the more information scientists can build preventative options and treatment options for osteoarthritis patients. Reported by Medical Xpress.
New Target Identified for Heart Failure
Scientists from several medical facilities including the University of Alberta and Alberta Heart Institute have found that a key molecule, PI3K alpha, binds to Gelsolin. Gelsolin is an enzyme that can destroy filaments that comprise the heart's cells structure, and suppresses it. This molecule shows promise as a possible therapeutic target for patients with dilated cardiomyopathy, a life-threatening condition that represents 20% of all heart failure cases. Reported by ScienceDaily.
---

---
FDA Approves the Ortho Clinical Diagnostics VITROS XT 7600
The VITROS XT 7600 has been developed to bring innovative, high quality digital chemistry technology to clinical laboratories in the United States. It combines MicroSlide technology and sophisticated digital imaging capabilities, and also offers dry slide technologies. Less patient sampling will be required, more productivity delivered, and potentially cuts overall costs for testing. Reported by PM360.
---

---
Hope you learned something new! Check back next Tuesday for informed, up-to-date science news, or

contact us

with specific inquiries.