Sciatic Nerve Block: Rapid model for evaluating nerve blocking agents or drugs designed to reverse local analgesia.
Nerve blocking agents are often used to replace general anesthesia in certain surgical procedures or for providing pain relieve in the post-operative period where the nerve block tends to provide more effect pain control and reduce opioid-related side effects. The rapid preclinical model of sciatic nerve block allows the screening of new nerve blocking agents or drugs designed to reverse the local analgesia. The surgical method employed with the nerve block model can also be applied to other models of pain where direct dosing to the sciatic nerve is desired rather than systemic administration.
The nerve block model is based on the administration of nerve blocking agents directly to the saphenous and sciatic nerves. Local injection is performed to the adductor canal as well as to the sciatic notch. Following the administration of nerve blocking agents, thermal hyperalgesia is tested for a duration relevant to the nerve blocking agent or drug being tested.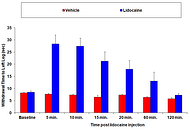 Review the surgical procedure and data for the model of nervel block.
About MD Biosciences
MD Biosciences is a Preclinical Contract Research Organization (CRO) providing services and products for biotech/pharmaceutical, medical device and animal health and companies engaged in inflammations & neurology research. With specialized laboratories located in Minnesota, Glasgow, and Israel, our panel of internationally recognized experts provides in-depth expertise and technologies to overcome challenges and provide total solutions to the drug discovery market.
--------
The information in this press release should be considered accurate only as of the date of the release. MDB has no intention of updating and specifically disclaims any duty to update the information in these press releases.