A novel, rapid in-vitro assay for the screening of compound effects in nerve injury
Neurite outgrowth is the projection and extension of axonal processes from neuronal cell bodies. Through this process, neurons organize themselves into highly-complex functional networks connected synaptically to one another.

Modulation of this neurite outgrowth process (neuritogenesis) has been implicated in a wide range of CNS diseases, including neurodegenerative disorders such as spinal cord injuries, Parkinson's Disease and Stroke.
MD Biosciences has developed a cell-based platform using primary cells extracted from adult rat, to evaluate the effect of tested compounds in the presence of inhibitory factors. The assay's unique characteristics enable yielding more translatable results, which can serve as a predictive tool of the compounds' efficacy in older animals and eventually in humans.
MD Biosciences offers an in-vitro assay to evaluate the effect of potential therapeutics on neurite outgrowth and connectivity (synaptic formation) in primary neuronal cell culture.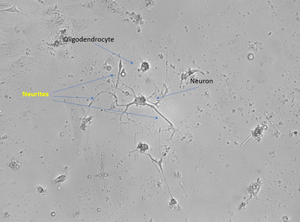 Neurite outgrowth after spinal cord injury in adult animal (Day 7)
Unique Screen Characteristics:
Assays on spinal cord and cortex cell culture
Primary neuronal cells extracted from adult animals
Fast turnaround with results available in approximately 7 days
Primary readout:

number of developed cells and the length of neurites in the presence of the tested compound and vehicle
Call or contact us today for our special introductory price of $1900 per compound.