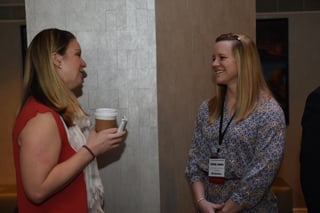 The 2016 Arrowhead Translation Microbiome brought the who's who of the microbiome community together last week in the heart of Boston. Top key opinion leaders in the field came together to discuss new therapeutic discoveries, disease indications and regulatory pathways. Seres Therapeutics, the leader in microbiome therapy development, opened the meeting discussing their pipeline and recently designated "FDA Breakthrough Therapy", Ser-109, for the treatment of reoccurring C. difficile infections. Other big players in attendance were Commense and Osel, Inc, who are both working to understand the impact of the vaginal microbiome on health and disease and how to treat a dysbiotic vaginal environment.
The field of microbiome research would not be where it is today without the aid and expertise provided by essential companies such as CosmosID, BioRankings and Second Genome, all of who were in attendance. These companies specialize in mapping the microbiome, discovery and data analysis that helps to identify microbes and microbial markers that influence human health.
MD Biosciences showcased our presence in the field with data from recent cutting edge research in the area of how the microbiome impacts the progression and treatment of cancer. While the focus of microbiome research has centered primary on diseases of the gut, it has recently switched to other peripheral diseases including cancers of extra-gastrointestinal origin. Our lead scientist Britnie James, Ph.D. presented "Understanding the Impact of Animal Vendors and the Microbiome in Tumor Progression and Treatment in a Model of Metastatic Breast Cancer" which demonstrated the impact of the microbiome on the progression of breast cancer as well as the antitumor immune response following doxorubicin treatment.
To learn more about MD Biosciences current investigations into this area, please contact us below!
Also, check out our previous blog: Impact of Vendor Animal Microbiomes on Disease.