MD Biosciences providing up-to-date news coverage compiling posts from science journals including Nature Cell Biology, Sci News, Journal of PLOS Biology, Medical Press, ScienceDaily and PhysOrg, reporting fascinating and innovative discoveries happening all over the world across a wide variety of disciplinary areas. Skim the titles below to catch up on what is happening and to learn what the team at MD Biosciences is reading about. Follow the links to read more about something that catches your eye!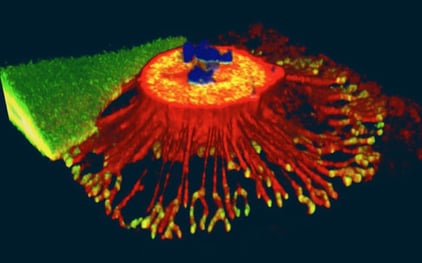 Image from: 3D projection of a cancer cell that is about to undergo cell division and adheres to the substrate with reticular
adhesions: chromatin/DNA (blue); cell membrane (red); reticular adhesions (green/yellow in the bottom of the cell). Image credit: John Lock.
WEEKLY SCIENCE HIGHLIGHTS
FGFBP3: Therapeutic Agent for Liver and Metabolic Disease
A study published in Scientific Reports out of Georgetown University looked at the protein FGFBP3 and saw promising results in reversing metabolic dysfunction associated with type II diabetes, fatty liver disease and other metabolic syndromes. Reported by ScienceDaily.
New Protein Sequencing Method: Changing the Future of Biomarkers
Using a new method called "single molecule fluorosequencing, researchers at University of Texas-Austin are sequencing millions of single protein molecules simultaneously in one sample. This method offers higher throughput and higher sensitivity than any existing technology, which should lead to more accurate and efficient biomarker detection of disease. Reported and published by Phys Org.
---

---
Newly Identified Structure in Human Cells
Scientists at Karolinska Intitutet in Sweden are using 3D printing techniques revealing a new type of adhesion complex, named the "reticular adhesions". This novel discovery has a unique molecular composition setting itself apart from already-established cellular complexes. Published in Nature Cell Biology and reported by Sci News.
Restoring Contractile Functioning of Cardiac Cells
In states of hypoxia, many physiological changes occur that produce long lasting, detrimental health effects. Therefore, pharmacological developments for restoring cardiac function hypoxic states are critical. UCSF researchers have developed a new therapeutic strategy that delivers oxygen specifically to low-oxygenated areas in the human body. Reported by Sci News and published in Journal of PLOS Biology.
---

---
Drug Candidate For Multiple Myeloma
A study run at University of South Carolina found that the compound E-61 enhances the efficacy of proteasome inhibitors (PIs), which is the standard treatment for multiple myeloma (MM) in preclinical models. While these preclinical findings have reported PIs as a promising candidate for MM treatment options, they often are not approved because of many health/safety concerns and a conglomeration of limitations. Reported and published in Medical Press.
---

---
Hope you learned something new! Check back next Tuesday for informed, up-to-date science news, or

contact us

with specific inquiries.