MD Biosciences providing up-to-date news coverage compiling posts from science journals including Alzheimer's Research and Therapy, Journal of Experimental Medicine, News Scientist, ScienceDaily, & Sci News reporting fascinating and innovative discoveries happening all over the world across a wide variety of disciplinary areas. Skim the titles below to catch up on what is happening and to learn what the team at MD Biosciences is reading about. Follow the links to read more about something that catches your eye!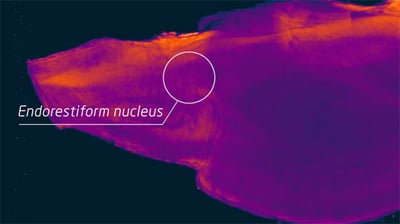 The endorestiform nucleus is found near the brain-spinal cord junction. Image credit: George Paxinos, Neuroscience Research Australia.
WEEKLY SCIENCE HIGHLIGHTS
Newly Discovered and Named Brain Region: The Endorestiform Nucleus
Professor George Paxinos at Neuroscience Research Australia recently discovered a new area of the brain located inside the inferior cerebellar peduncle, a region responsible for processing motor and sensory information to refine balance, posture and fine motor actions. His past 3 decades of research leading up to this discovery shows much promise for treating motor neuron dysfunction and neurodegenerative diseases like Parkinson's and Alzheimer's. Reported by Sci News. Image pictured above.
Woman Gives Birth to First Ever Gene-Edited Babies
Reported by News Scientist, a woman in China gave birth to two genetically edited twin, baby girls, stirring up a big ethical debate. Seven pairs of women and men participated in the study, all of the men were HIV-positive. Out of the 22 produced embryos, 11 were successfully edited with CRISPR technology, and only one pregnancy was successful to birth. The purpose of the experiment was to create babies who are HIV immune.
---

---
DNA Vaccination Decreases Build Up of Alzheimer's Associated Proteins
A study published in Alzheimer's Research and Therapy and reported by Sci News analyzed amyloid plaques and tau tangles, two pathological pillars of Alzheimer's disease. Researchers at University of Texas Southwestern injected a new DNA vaccine into murine skin. This vaccine encourages an immune response to reduce the accumulation of beta-amyloid and tau proteins, a promising prospect for human trials in the coming months.
---

---
New Insights Into Type II Diabetes, Uncovering Molecular Mechanisms
A variety of lifestyle factors influence the risk of developing a range of health issues including type II diabetes. Small chemical changes in the DNA building blocks can reduce the amount of IGFBP2, a binding protein that is released into the blood to balance glucose and lipid metabolism. When the liver doesn't release enough, disruption of metabolic processes occurs, leading a team of DIfE / DZD researchers to explore epigenetic strategies, specifically manipulating the IGFBP2 gene to assess the progression and development of type II diabetes. Reported by ScienceDaily.
Novel Breast Cancer Therapy: Bone-Barrow Derived Fibroblasts
A study published in the Journal of Experimental Medicine conducted by scientists at Tel Aviv University in Israel report that breast tumors exponentially increase their growth by recruiting stromal cells that are developed in the bone marrow. Results showed from this study that the recruitment of bone marrow-derived fibroblasts decreases the likelihood of surviving breast cancer, but also indicated that targeting these fibroblasts can be an effective treatment option. Reported by Gen News.
---

---
Hope you learned something new! Check back next Tuesday for informed, up-to-date science news, or

contact us

with specific inquiries.