MD Biosciences providing up-to-date news coverage compiling posts from science journals including Nature, Nature Communications and Cell, reporting fascinating and innovative discoveries happening all over the world across a wide variety of disciplinary areas. Skim the titles below to catch up on what is happening and to learn what the team at MD Biosciences is reading about. Follow the links to read more about something that catches your eye!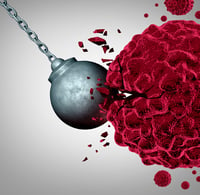 image source: wildpixel/Getty Images
Top Weekly News
An immunotherapy in mice destroys tumor and attacks cancer cells
Researchers at VIB U-Gent Center for Medical Biotechnology developed an immune therapy that causes part of cancer cells to produce MLKL, thereby activating cell necroptosis. Published in Nature Communications and reported by Gen News.
---

---
How can we measure gene expression in a single cell?
As described in Nature, La Manno et al. (2018) developed a novel method to record and measure gene expression using RNA-sequencing data. This method poses a vast array of therapeutic applicability, especially for monitoring disease progression.
FDA approves TAKHZYRO, a solution for hereditary angioedema (HAE)
TAKHZYRO is a human monoclonal antibody (mAb) that is the only known antibody to attack plasma kallikrein, which is observed in exceedingly high levels in individuals with HAE. As reported by Shire, a biotech company in Ireland, patients with this treatment experienced a 78% reduction in monthly edema attacks.
---

---
Biomarker discovery uncovering epigenetic mechanisms of Melanoma
Researchers at Mount Sinai School of Medicine identified a mechanism that causes mutations of the BRAF gene, inhibiting effective patient response to cancer treatments. Published in Nature Communications and reported by Gen News.
How does aging promote onset of genetic and sporadic neurogenerative disorders?
A study published in Cell, found newly identified molecular links between several neurodegenerative disorders, reported by Gen News.
---

---
Hope you learned as much as we did this week! Check back on Tuesday for the latest scientific discoveries and contact us if you have any study inquiries.